2 avril 2012
1
02
/

04
/

avril
/

2012
15:13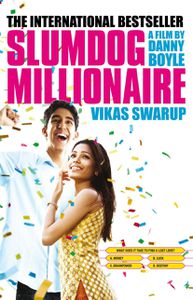 Release date and certificate:
30 August 2008 (rated 15)
The stars
The actors are Dev Patel, who was in The Last Airbende and Shins films, plays Jamal; Freida Pinto played in Rise of the planet of the Apes and Black Gold, in this film she plays Latika; Anil Kapoor, Irfan Khan and Rubina Anil.
The plot
Jamal Malik is a Mumbai Muslim teenager who grew up in the slums. Jamal has got a brother whose name is Salim, he is older than him. Their mother died when there was an attack on Muslims. Jamal is honest, optimistic and also a romantic whereas Salim is aggressive and attracted by money and power. When they were children Salim was his brother's guardian,but he became a villain. Jamal takes part in the Indian version of ''Who wants to be a millionaire ''. He is arrested by the police because he is suspected of cheating in this game. In fact Prem Kumar the presenter of this TV game suspects Jamal, and he calls the police because Jamal was a slum boy and he has the right answer for each question. During the game Jamal thought of this childhood in order to find answer to the question. Besides Latika watched ''Who wants to be a millionaire'', this is the way of Jamal's participation on this game. How this young man is going to win this game?
Best bits
Personally, I enjoyed the scene when Jamal wins the game and the beginning when he was little it was very funny and amazing.
Fave character
My favorite character is Jamal, I mean Dev Patel because he was smart and he had a nice personality in the film. Dev Patel was convincing.
Any weak beats
No...I rekon yes. The scene when a man puts melted wax in boy's eye, was horrible and very bad. By the way the film was fabulous, great, interesting and entertaining.
Hit or miss
See this film, it's amazing. This film won 8 Oscars so it's a very good film. Actors are convincing the songs were extremely melodious.