2 avril 2012
1
02
/

04
/

avril
/

2012
15:24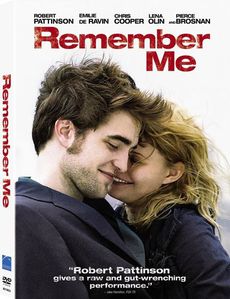 Release date & certificate:
This film was released on April, 7th 2010(Cert 15A)
The stars:
Robert Pattinson, who was in Twilight, plays Tyler (the main actor)
Emilie de Ravin plays Ally and Chris Cooper plays the policeman
who's Ally's father.
The plot:
Tyler is a young New-Yorker of 22 in rebellion against his family
and society after a family tragedy. Following an altercation with the policeman,
he decides to take a revenge in seducing his daughter. But Ally is a delicate
and unpredictable girl he falls in love with. Or how a cruel joke becomes
a story they will never forget.
Best bits:
Personally i think the best bits are when Tyler finds himself with his little
sister to explain the complications of life and Tyler tells her why
their father is too often absent. He reassures her in saying that her father
loves her anyway.
Fave characters:
Robert Pattinson is brilliant, and he plays very well his role.
It's very different from his part in Twilight and it's surprising.
Emilie de Ravin has a very interesting role and she plays wonderfully.
Any weak bits?
There isn't any weak bits but there are many sad moments. It's a
moving film so people who don't like that will not like this movie.
Hit or miss?
Hit ! Remember me is a wonderful movie! If you haven't seen this film yet
you should go and see it!
Rating:
****