2 avril 2012
1
02
/

04
/

avril
/

2012
15:14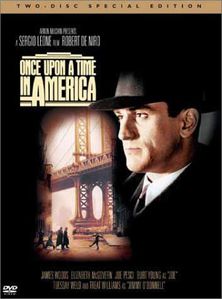 Release date and certificate
23 may 1984. ( Cert 16A )
The stars
-Robert de Niro who was in " Casino "; " Taxi Driver " or " Godfather part II ", film plays David Aaronson alias " Noodles ".
He is the main character.
-James Wood who had played in " Casino " with Robert de Niro, film plays Maximilian Bercovicz alias " Max ". He is Noodles's best friend
-Elizabeth McGovern from " Johnny Handsome " plays Deborah Gelly. She is Noodles's big love.
The plot
David Aaronson alias " Noodles " is an old gangster. He's back in New York on the places of his childhood, in the mafia in 20's.
He spent his childhood in a jewish ghetto named the Lower East Side. He recalls the good and bad memories such as the liquor traffic and his addiction to opium. But also the murders, the time of the prohibition and the betrayal he was the victim.
He also remembers Deborah, his big love and his friends but especially, his bestfriend, Max.
Best bits
Personally, I reckon it's a masterpiece and the best movie in the world.
My best bits are: the vengeance of Noodles after the murder of one of his friends. Then, when Noodles is sent to jail and the moving moments between Noodles and Deborah.
The story is very well constructed, especially with the flash-backs which give the originality of the film.
Fave characters
I'm a Robert de Niro fan, he is brillant in all the movies he plays in. He shows amazing performance. He makes his character authentic.
Any weak bits ?
The movie is very long and it was underestimated at its released.
Moreover, the role of Joe Pesci is not important for this film.
Hit or miss ?
Once upon a time in America is a masterpiece !
This movie is wonderful, the soundtrack and the actors are brillant ! See this film !