2 avril 2012
1
02
/

04
/

avril
/

2012
15:29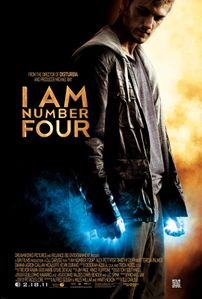 Certificate:
6 April (General audiences).
The stars:
Number 4 have many stars.
Alex Pettyfer, who was in "Sortilège" and "Time out", he plays Number 4 alias John Smith.
Dianna Agron, who was in "Glee" and "Veronica Mars", plays Sarah.
Timothy Olyphant, who was in "Scream 2", plays Henry.
The plot:
Three are already dead, he is the fourth…
There were nine survivors in the world. Three are already dead. John Smith isn't an ordinary teenager; he changes cities all the time to escape the invaders of his world, the Mogadorians, with Henri, his protector.
He will eventually settle in the small town of Ohio where he will know his first love and will learn to use his new powers to defeat the Mogadorians with number 4 who found him.
Best bits:
It's when the Mogadorians found number 4, an other survivor but it's a girl, and number 6. They make a very great fight, it's memorable. The special effects are brilliant and this gives even more reality and emotions.
It's so awesome!
Fave characters:
Dianna Agron is brilliant as Sarah. She plays the character very well! Her role is different from her part in Glee because in Glee, she is a little bad whereas in Number 4, she is nice.
Any weak bits?
Every bit is intense in emotion.
Hit or miss?
Hit- Number 4 is fantastic! See this film!