2 avril 2012
1
02
/

04
/

avril
/

2012
13:22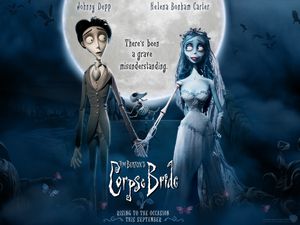 Release date & certificate
23 September 2005
Tim Burton
The stars
- Corpse bride is a cartoon. The characters are thus fictitious.
- The voices of Victor van dort of Victoria and Emily are respectively the ones of Johnny Depp, Emily Watson and Helena Bonham Carter.
The plot
Victor Van Dort, is a young man coming from a rich family. Victoria is a girl of aristocratic lined. A marriage arranged by their two families is going to upset Victor's life. Not managing to learn his wedding vows and destroying the preparations for the wedding he takes refuge into the woods. This time, he pronounces his wishes at the perfection and mimes correctly every movement. including the exchange of rings, he places it on a tree root. But unpleasant surprise: it is not on a piece of wood that Victor makes the ring slide this evening, but on the finger of a corpse.This young dead woman, named Emily, is going to take him in her world where he dreads not to see his fiancée again .
Best bits
The best moment, in my opinion, is the last scene when finally Victor's choice becomes evident. And when Emily gives him the engagement ring back. Moreover this scene is very theatrical because she disappears in a blue rain of rose petals.
Fave characters
My favourite character is Maggot the worm. This little gift lives in Emily's head. He gives Emily advice but says so many sarcasms which is funny. His humor brings a lot of lightness in the dark atmosphere of the film.
Any weak bits
If you are not of big romantic, the moment when Victor and Victoria see each other for the first time, is really for girls. As if it was the love at first sight. Many, I suppose, shall not appreciate this passage.
Hit or miss ?
If I were you I would run to seethis movie, just to catch up the lost time! An incredible movie which seduces the young and the eldest. The effects on the characters are magnificent and the drawings prodigious.The scenario is a bit far fetched but it doesn't prevent anyone to understand the story.
Rating