2 avril 2012
1
02
/

04
/

avril
/

2012
15:15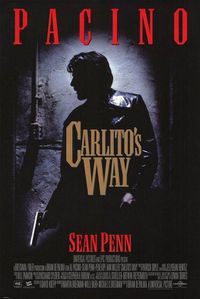 Release date and certificate :
23 march 1994 (Cert 12A)
The Stars :
Carlito's way includes several popular actors like Al Pacino, Sean Penn and Penelope Ann Miller.
The main actor of this film is Al Pacino. He plays Carlito Brigante, who was just came out from prison and decides to stop the illegal business. Sean Penn plays the role of counsel for Carlito Brigante. Penelope Ann Miller plays the role of bail who is the C. Brigante's girlfriend.
These three actors are the most important actors of the film.
The plot :
Carlito Brigante, who was a drug baron , is released from prison thanks to his lawyer David Kleinfeld and is determined to stop drug traffic and take the right path. It will therefore become a nightclub manager and will make money legally to be able to leave the Bahamas with his girlfriend. But it will not be as easy as it is believed, the trouble will catch up and it will be held accountable.
Best Bits :
One of the best scene is when Carlito Brigante sees his girlfriend again after his release from prison. I also like when it is accompanied by one of his young nephews to sell drugs and that the transaction ends with a shooting. But the most moving scene is when his fiancée is closed to death and that one of these enemies overtakes him and kills him saying this sentence : « Do you remember me ? Benny Blanco from the Bronx Man »
Fave characters :
David Kleinfeld was a lawyer and then bacame a thug and will become hooked to cocaine. Besides, it will sink in the harsh environment of the mafia.
Any Weak bits :
I loved all the scenes, there is always action and the conversations are interesting.
Hit or Miss ? :
You must watch this movie at all costs. This is a true master piece, a beautiful and moving story full of action. This film is a classic not to be missed.